There are several ways to add an image to a document whether you are using MS Word or LO Writer. You can copy and paste an image from the Internet. Or you can use a screen capture tool to capture an image from either the internet or from your computer. Either way, the first step you should always do after inserting an image into a document is to compress the image to reduce its file size. After that, you can format the image.
MS Word offers two basic processes for formatting images. The first process is to right click on the image to bring up formatting options. The second process is to double left click on the image which will bring up the Image Formatting Ribbon options. Both have similar but not identical formatting options.
Here is what the right click Image formatting options look like: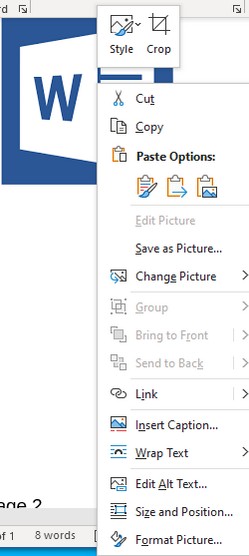 The word Style is a bit misleading because the only thing clicking on it does is bring up some image border options: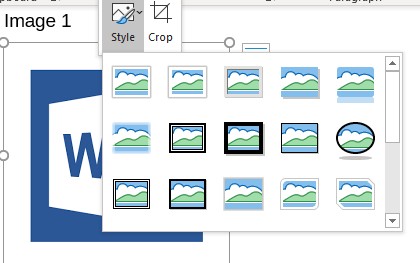 Crop brings up a cropping tool: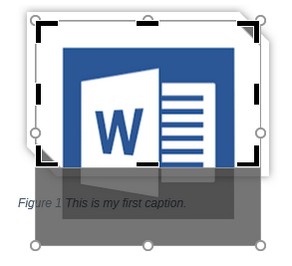 Size and Position has image wrapping and padding settings: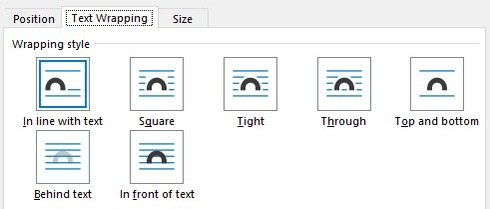 Format Picture brings up a Format Picture screen with four icons.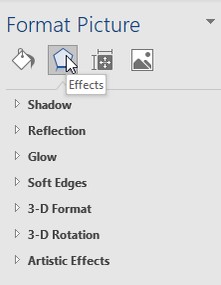 By default, this screen opens with the Effects options displayed. The first icon is a background filler bucket. The third option is called Layout and Properties:
The fourth option is called Picture and has tools for correcting image distortions, picture color, picture transparency and cropping the picture.
Ironically, the closest that MS Word comes to providing an image style is hidden under the right click tool called Wrap Text: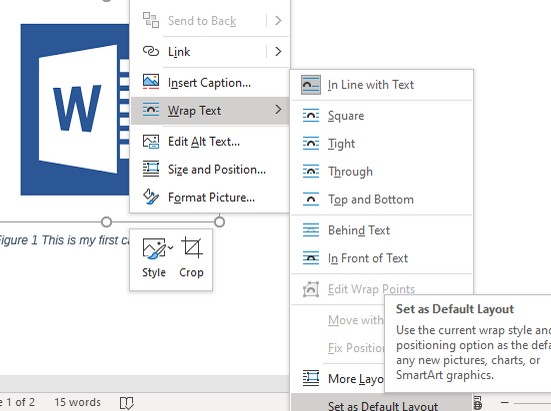 This does not really set a complete default layout. But it does allow you a chance to set a default wrapping property.
The other way to format images with MS Word is by double left clicking on the image which brings up the Picture Format ribbon.

These icons are basically the same as the right click formatting options. For example, the Quick Styles icon simply brings up the image border options. The Picture Styles arrow just brings up the four icons on the Format Image screen. The one additional tool is the Compress Image option located in the middle of the ribbon. Curiously, there is not really a way to give the image a name.